Martin Fei Bags Foreign Based Minister Of The Year Award
Martin Fei bags Award for the Foreign Based Minister Of The Year: Renowned UK based gospel artiste Martin Fei has been one of the influential gospel artiste in UK for the past 3 years and counting.With 4 hit songs to his credit, Martin Fei has made lot of impact with songs such as Ruler, Turn me around, Aseda and his latest "Yesu Waraa".
The second edition of Kingdom Honors Award which took place on 11th May 2019 at Accra has awarded Martin Fei as Foreign based artiste of the year. Martin Fei amassed a total of 1,338 in winning from his category ahead of Theo Praise, Daniel Jeddman, Annistar and James Owusu.
It is of no surprise at all that Martin Fei surpassed the first runner up in his category with a total of 1156 votes due to people loving the content of his songs in Ghana and beyond. In an interview with Gospel2me.com, Martin Fei has admonished the up and coming artiste not to be in a haste to jump in the cycle of fame but continuously work behind the scenes and wait for the right timing of God.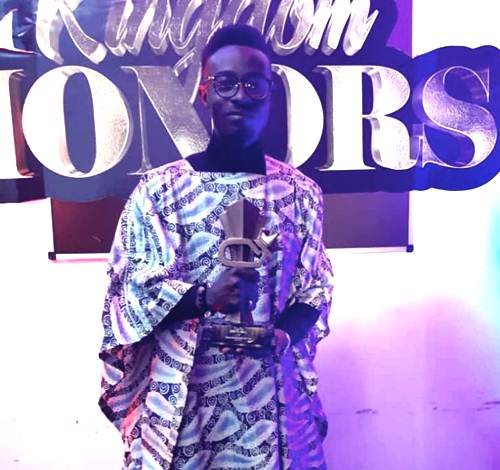 He however stated that, the award is dedicated to all mothers especially his mum who has always believed in Him. He further dedicated the award to his family, friends, and everyone who voted for him.
Martin Fei is out with 4 hit songs, "Aseda" "Turn me around" Ruler, and his latest titled "Yesu W'araa".
Source: gospel2me.com
KINDLY CONTACT GOSPELEMPIREGH.COM FOR THE FOLLOWING SERVICES:
Artiste Profiling | Advertising / Promotion | Artiste Management | Brand Management | Consultancy | Event Management & Organization | Online Content Creation / Curation | Public Relations | Social Media Marketing | Social Media Management
CONTACT US:
Call/WhatsApp: +233 558856705
Email: [email protected]
CONNECT WITH US:
Twitter: (@Gospelempiregh)
Facebook: (Gospelempiregh)
Instagram: (@Gospelempiregh)
YouTube: (Gospelempiregh)
Are You A Gospel Artiste? We Can Help Promote You & Your Music — CLICK HERE
Thank You For Choosing GospelEmpireGh (Strictly Gospel)