Evelyn Branford Dazzles in 3 Head-Turning Outfits From Official Video Shoot of Ameni [Photos]
Thriving gifted worshipper and Gospel songwriter Evelyn Branford dishes new wavy photos of her persona and flawless outfits From Official Video Shoot of Ameni.
In these snaps, Evelyn rocked in a yellowish attire laced with blue embellishments matched with a yellow hat.
Captioning the photos, Evelyn wrote: "Gratitude ♥️??".
The second was a very beautiful deep orange outfit that complimented her impeccable light blue accents.
Evelyn Branford wrapped up the elegant look with an orange shirt matched with sky-blue jeans.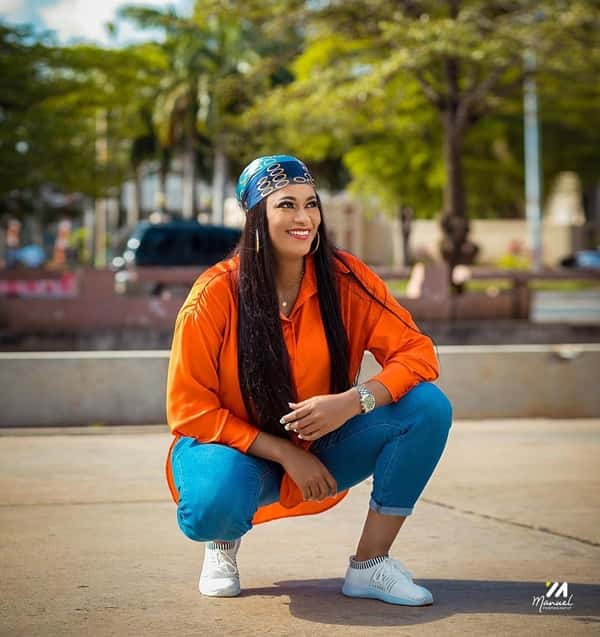 Evelyn's greatest fulfillment as a worshipper derives from being used as a vessel through which the presence of God permeates the worship atmosphere.
Her new single 'Ameni (Amen)' was released on 3 February 2023. This is a collaboration featuring Naomi Wesi, a recording gospel artist and a radio presenter from South Africa.
Ameni is a mid-tempo Afrocentric praise song that praises the Lord and shares the message of the gospel of Christ.
Evelyn Branford ft. Naomi Wesi – AMENI (Amen)
Song Written and Composed by: Evelyn Branford and Shumie Odirile
Special credits to Prince Thomas, Naomi Wesi, and Dennis Kwarteng
Video Shot/Directed and Edited by McWillies/Flashbak
Music Produced by JusPrince
Photoshoot By: Manuel Photography
Source: GospelEmpireGh.Com