Mercy Chinwo & Husband Wedding Thanksgiving Service, Celebrates Singer, Ada Ehi Moses On Her Birthday
Gospel singer, Mercy Chinwo and husband Pst Blessed did their wedding Thanksgiving service yesterday at the Water Brooks Church, Lekki Lagos, where Pastor Blessed Uzochikwa is the resident pastor. Gospel singers, Joe Praize and Ada Ehi Moses ministered in the service.They also celebrated singer, Ada Ehi Moses on her birthday.
Last week, Nigerian actress and entrepreneur, Uche Elendu defended Mercy Chinwo as Netizens kept on criticizing her flamboyant lifestyle after she showcased on social media a Sport Utility Vehicle (SUV) from her husband, Pastor Blessed as a birthday present.
Recall, media personality, Obieze wrote an open letter to Chioma Jesus, who is a spiritual mother to Mercy. He said she has been almost all over the place ever since she got married. He adviced Chioma Jesus to tell her to slow down on the social media show off for now.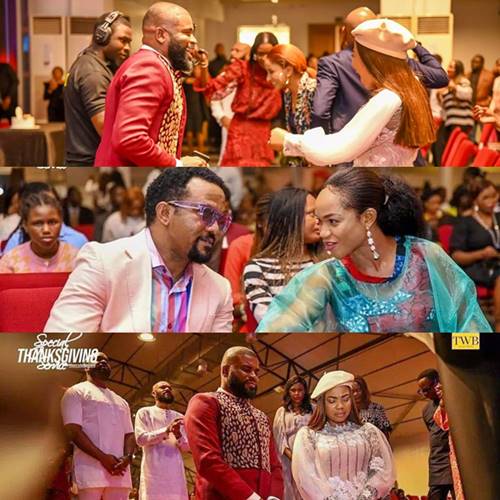 Few days ago, Lawmaker, Maria Ude Nwachi advised gospel music minister, Mercy Chinwo and her husband, Pastor Blessed Uzochikwa to take their marriage off social media to avoid Investigations that might lead to troubles.
Maria Ude Nwachi wrote:
"Clarification: This type of show by a woman of bible will bring nothing good for her. One investigation into their doing might bust a lot and those hailing them won't be able to help them out of it. The investigation can come from source and to find something no dey hard. To make displays that beg to be scrutinsed is very very unwise because your subliminal request will surely be answered if you keep it up. Nollywood actresses do these packages and it's okay but not her type. I did not post that package because I felt sorry for her as she knows not what she is doing. Allow trouble to sleep in peace, no wake am. Thank you."
Responding to the criticism, Actress Uche Elendu wrote:
"Enough of the narrative that Christians should not live a flamboyant life style, or enjoy good things of life, Enough of the narrative that being a Christian means you should look poor and not enjoy your life. Enough of glorifying the devil, making the young one's feel that wealth comes from the devil, thereby engaging in nefarious rituals just to get rich, Enough of attributing EVERY Pastors wealth to tithes and offerings, Born Again Christians should show off on social media too, Let the World know that All good things come from God, Wealth is our heritage. Eccleston 5 vs 19. Tall rest Abeg! It is part of Evangelism."