Obofour Gifts Over 15 Cars to Prophet Badu Kobi & Others
Reverend Obofour has given away over 15 cars in his church. The cars were given to people including Prophet Badu Kobi, Auntie Bee of Efiewura fame.
The gesture was done to mark the naming ceremony of a newly born son of Rev Obofour.
General overseer of the Anointed Palace Church (APC) in the video was seen sharing cars at the Tema branch of his church. He gifted over 15 cars to people ranging from pastors, singers, and ordinary members in his church.
Prominent among the recipients were Prophet Emmanuel Badu Kobi of the Glorious Wave Ministries and Auntie Bee of Efiewura fame. The two got a Jaguar and a Hyundai Elantra respectively.
Obofour also gave a Toyota Highlander to one 'Bishop', a Toyota Corolla to a singer at the church, and a Toyota Yaris one of the workers at Obofour's TV station called O'Neill. He also gave a Ford car to the wife's sister who has been cooking for him and a Rolls Royce to his wife.
The kind gesture from Obofour was to mark the outdooring ceremony for his newborn son Okyereabeyie Kweku Francis Antwi Adjei Jnr aka Rev. Obofour Jnr. at the Tema Branch of his church.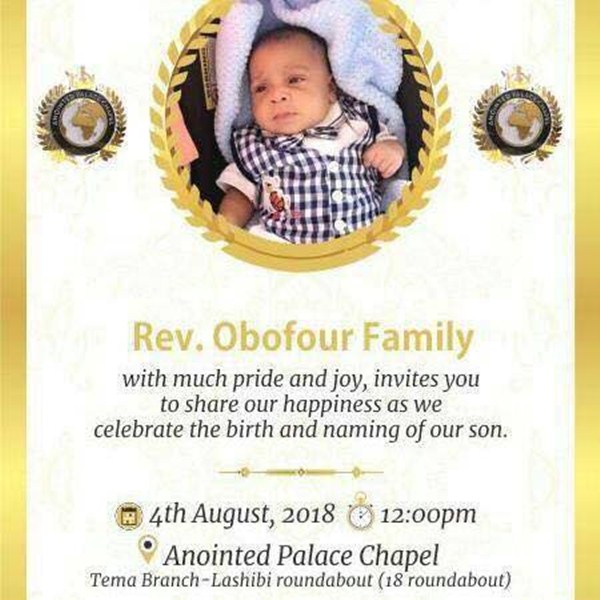 Speaking during the gifting of the cars, Obofour stated that he was not dependent on money from his church.
According to him, he is a serious businessman who owns about 15 companies and thus will be okay if he decided to stop being a pastor. But he quickly added that being a pastor is a calling from God and I have to answer.
This is not the first time Reverend has done something as eyebrow-raising as this one in recent times.
Reverend Obofour reportedly purchased a car worth a little under GHC 100,000 for his daughter. The car, a Ford Mustang, is said to have been bought for his daughter on the occasion of her ninth birthday.

WATCH VIDEO BELOW:
Source: Yen.com.gh
SEE ALSO: Afia Schwarzenegger Will Die Miserably : Prophet Predicts