Performing With Empty Stomachs is Over – Joyce Blessing
Female gospel musician, Joyce Blessing has stated plainly that performing with empty stomachs in this era is over. She added that there is no way she will perform at an event or show for free infact, she goes with no cash, no show principle.
Speaking on Shalom Fm Lunch Hour show with host Ike De Farmer, Joyce Blessing said, gospel music is a business and should be treated as such when performing at shows. And there is no way her management will allow her to perform for free. She also stated that the era where gospel musicians performed with empty stomachs in the name of helping God's work is over and that gospel music is now business.
Yes, it is ministry but you exchange money; so it's business. You pay for the video to be shown on television and for your songs to be played on radio as well. If you argue that it is ministry so we should not charge, at the end of the day, how can we continue with the work?, Joyce questioned.
She added that even if she will desire to perform for free, her management, Zylofon Media/Music, won't allow because they've invested in her
We need money to push God's work. You must charge for performing because everything about music is money. Even Churches take offerings. Aside everything I'm under Zylofon Media. NAM1 has invested into my music career so how do you expect him to make returns? There is no way I can perform for free because my management won't allow me, Joyce blessing said.
More importantly, Joyce Blessing advised her colleague gospel musicians to take their charges seriously because their chosen profession is business oriented not charity.
Zylofon Music's Sensational gospel singer Joyce Blessing has announced a tour for her latest I Swerve You hit single.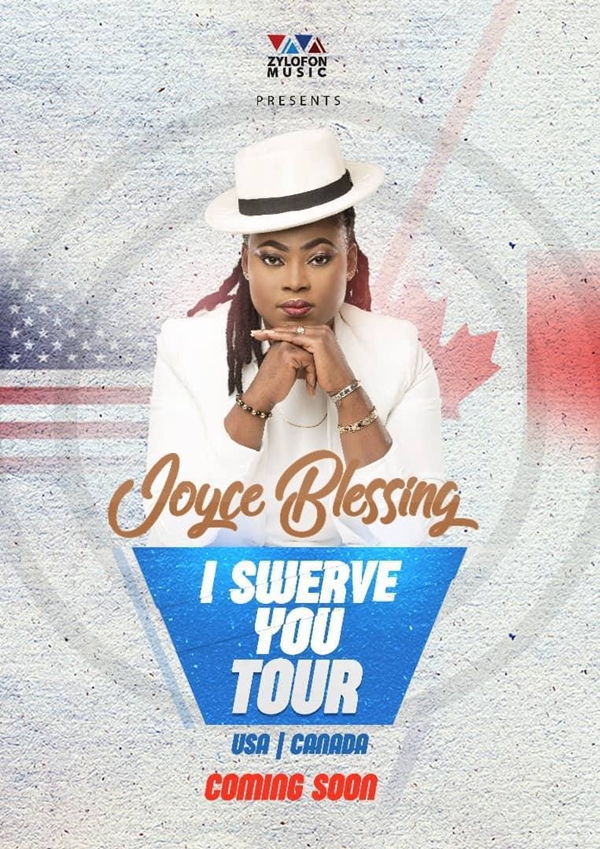 According to the management of the multifarious award winning singer , the tour will commence early September this year at Canada and the United States of America where the artiste will headline graceful concerts with other church appearances to interact with fans and music love.
Tour dates will be made available to the populace soon.
READ MORE: Yaw Sarpong Hints of a Collaboration with Sarkodie