Don't Bury Ifeanyi Yet – Pastor Shola Gives Davido Conditions To Make Late Son Comeback To Life
Nigerian Cleric, Christian Shola has called on Davido and Chioma who lost their 3 year old child, Ifeanyi Adeleke to not bury the dead child yet.
Prophet Shola claimed Ifeanyi is a destiny Child and would be brought back to life if he his taken to Solution Ground on or before 21hrs from when he passed his message.
"I am Prophet Christian Shola, please don't bury that boy yet, he is a destiny child. take Ifeanyi Adeleke to Solution Ground on or before 21hrs after this message and see what will happen, God of of solution can never fail (2king5v10). Olórun Christian Shola Agbayé", He wrote via twitter
SEE TWEET BELOW: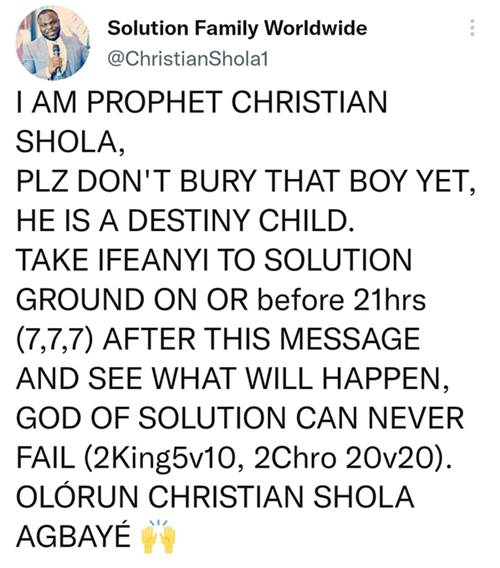 The tragic incident happened on the 31st of October, 2022 after the 3-year-old drowned in their family swimming pool..
All efforts made to revive him proved futile, as he was pronounced: "dead on arrival".
Source: withinnigeria.com