Nat'l Cathedral: I Look Forward To CHRAJ's Investigation – Rev Kusi Boateng
Secretary to the Board of Trustees of the National Cathedral, Rev Kusi Boateng has said he is fully prepared for the investigations that will be conducted by the Commission on Human Rights and Administrative Justice (CHRAJ) into the allegation made against him Member of Parliament for Noth Tongu Samuel Okudzeto Ablakwa.
He said he is prepared to make his case when he appears before the Commission.
"I wish to assure the public that the statement made by Mr Ablakwa are a twisted narration of events to pursue a malicious political agenda.
"There has never been any criminal intent nor any crime committed in my dealings with the government of Ghana or National Cathedral," Rev Kusi Boateng said.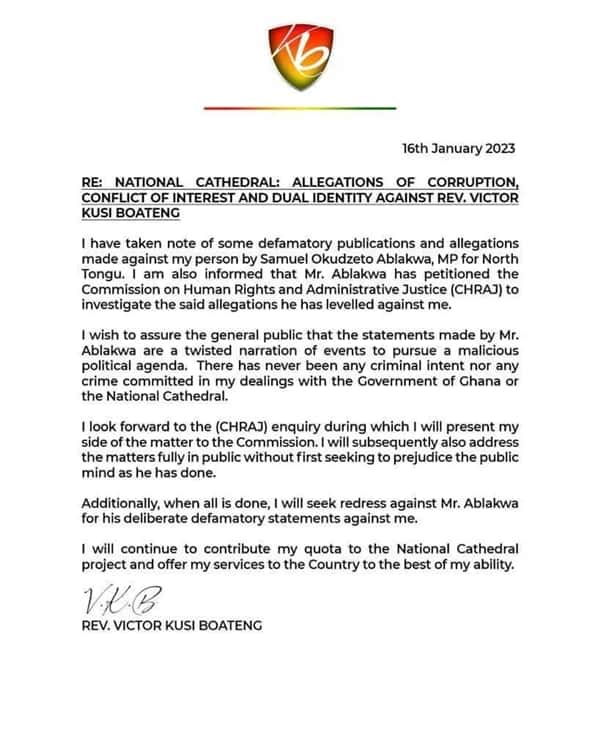 Mr Ablakwa presented what he described as "unimpeachable" and "incontrovertible" evidence against him.
According to the opposition lawmaker, Rev Kusi Boateng is the third "mystery" director of JNS Talent Cantre Limited, a firm he had earlier accused of receiving GH¢2.6 million illegal cash transfer from the Secretariat.
"Unimpeachable and incontrovertible evidence confirms that Mr. Kwabena Adu Gyamfi is the famous Rev. Victor Kusi Boateng who still serves on the National Cathedral Board as an Executive Council Member/Director," he said.
For the avoidance of doubt, he added, there is no distinct Kwabena Adu Gyamfi. Kwabena Adu Gyamfi is a criminal creation of Rev. Victor Kusi-Boateng.
The two are therefore one and the same, he said.
"Rev. Victor Kusi-Boateng AKA Kwabena Adu Gyamfi thought he had outwitted every Ghanaian, particularly our authorities whom he dribbled for many years; but the day of reckoning is finally here."
Mr Ablakwa has further petitioned the Commission for Human Rights and Administrative Justice ( CHRAJ) to look into the matter.
Source: Laud Nartey/3news.com/Ghana