Step Inside Gospel Legend CeCe Winans's Glittering Holiday-Ready Home
Veteran gospel singer CeCe Winans usually decorates her 8,000-square-foot home in Nashville immediately after Thanksgiving.
This year, with a new addition to her family—her first-born grandson, Wyatt Phillips, arrived on Christmas Day in 2020—she aspires to bring even more cheer into her home.
The Gospel Music Hall of Famer and best-selling secular artist from the legendary Winans musical dynasty partnered with Balsam Hill to give her Tennessee home a complete wintry holiday makeover.
The collaboration provides the backdrop for her legacy-themed YouTube series, CeCe Winans Presents Generations, now in its second season and gearing up for several festive-themed episodes.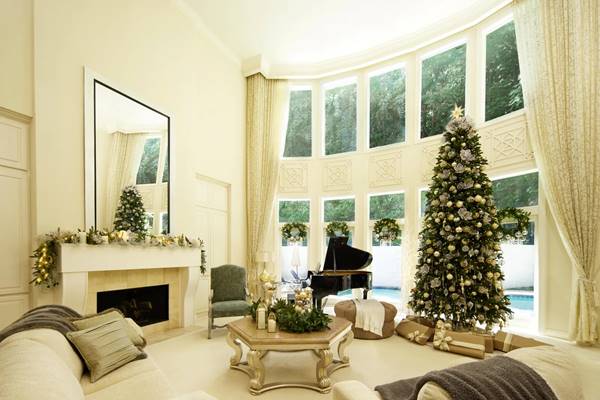 "This holiday is more than just gifts and candy. It's about my faith," says Winans, who, along with her husband Alvin Love, is a cofounding pastor of Nashville Life Church. "It gives us a chance as a family to really focus on what Christmas is about. It's so easy to get into the hustle and the bustle and forget the real power of Christmas."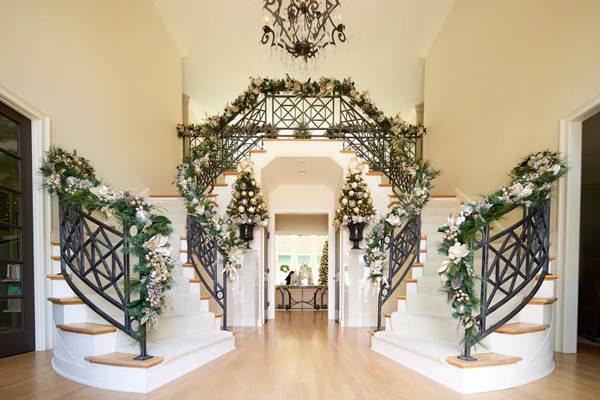 Atlanta-based interior designer Michel Smith Boyd was brought on to reimagine the multiple Grammy, Dove, and Stellar Award winner's massive entrance and living room as an ivory- and champagne-colored winter wonderland. He garnished and adorned the metal on the split staircase with unlit metallic foliage garlands. Two of Balsam Hill's signature four-foot faux pine trees with lights were placed on top of clear towers that lead down the hall to the living room. And it was all installed while Winans, 58, was on the road for her first concert tour in a decade.
"We just went crazy and had a good time," Boyd, who cohosts HGTV properties Rock the Block and Luxe for Less, tells AD. "I really hadn't done holiday decor in a really long time, but this was an opportunity for me to circle back to somebody from the very beginning that I've always loved and who is so influential in [the Black] community."
Winans's massive collection of music accolades, plush furniture, and family portraits all over the living room only encouraged Boyd to incorporate more metallic, opulent color schemes, giving the spaces a regal ambiance. On top of the room's central gold coffee table, he placed white pillar candles under two brass fairy light lanterns and wrapped fir wreaths around clear vases filled with tonal ornaments. In addition to hanging illuminated wreaths on the glass windows next to the piano, Boyd bedazzled the 12-foot Balsam Hill tree. Two glowing mercury glass orbs were also added to an end table with a lamp that sits behind the piano chair.
Champagne-colored trees dripping in crystal and pearl, golden tabletop trees, a classic nativity set, and long white candles in glass holders are spread across a horizontal table behind the white sofa. The mantle has both silver beaded feather and glitter decorations propped against the wreath and candles.
Although Winans and Boyd didn't get a chance to meet in person, the singer behind hits like "Alone in His Presence" and "Everlasting Love" was completely blown away by his work. "My house is just filled with sparkles everywhere, but it's timeless," says Winans, a Detroit native. "You come in and your mouth just drops."
Winans, who recently made history as the first Black female solo act to win Artist of the Year at the Dove Awards, has lived in her home for 27 years, but says working with Boyd and Balsam Hill "took decorating to a whole 'nother level. Every detail of it is incredible. The holiday decorations are at an all-time high right now."
Winans's home is the first time in Boyd's career that he's decked out a celebrity home at Christmas time. The owner of a design firm in Atlanta's Old Fourth Ward district, Boyd almost passed on the 48-hour turnaround because of his busy schedule, but couldn't decline bringing the wow factor and jaw-dropping ambiance of an upscale department store or five-star hotel lobby to the comfort of her estate.
"It felt really regal, and I wanted to introduce this grandeur and create something aspirational," Boyd says, adding he's been working closely with Balsam Hill for the last three years. "All of those things that make the house feel warm already were in place, so I could go really big with the hospitality feel."
Source: architecturaldigest.com