Afia Schwarzenegger Shades Pastor Mensah Otabil
Afia Schwarzenegger Shades Pastor Mensah Otabil in a Facebook Post:
Controversial radio and TV personality, Afia Schwarzenegger has waded into the ongoing social media campaign, #IStandWithOtabil that has divided people on social media.
In a long letter to the followers and sympathisers of Dr. Mensa Otabil, the outspoken comedienne chastised them for a needless campaign that sought to defend Dr. Mensa Otabil amid all the reports available that indicate he supervised the collapsed Capital Bank.
According to the hostess of Konkonsa Police on TV Africa, she had chosen not to comment about the issue but the flyers going about with the message I Support Dr. Otabil got her annoyed hence her decision to finally break her silence on the saga.
In her message, Afia Schwarzenegger wondered why Dr. Otabil who has been preaching to people to sow seeds of thousand dollars in other to have their businesses flourish could not sow a see of $5000 to save the fortunes of the bank he was a Board Chairman of.
She further insinuated that it is people like Dr. Otabil who have for decades used the bible to trick people of their monies to enrich themselves yet have done very little in terms of giving back to the society.
Here is what she posted: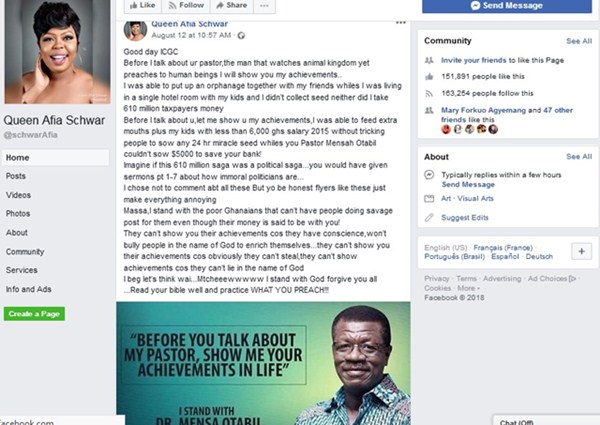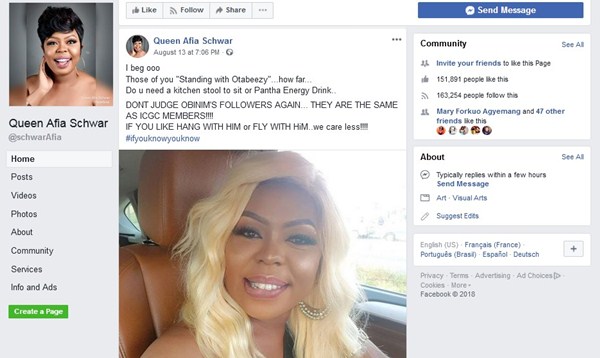 SEE ALSO: Afia Schwarzenegger Will Die Miserably : Prophet Predicts
Contact Us
Call/WhatsApp: +233 558856705
Email: [email protected]
Follow Us:
Twitter: (@Gospelempiregh)
Facebook: (Gospelempiregh)
Instagram: (@Gospelempiregh)
YouTube: (Gospelempiregh)
Google Plus: (Gospelempiregh)